A complete selection of easily installed purifiers - elegant countertop models (pressure and gravity stoneware), undersink filters, whole house systems, Reverse Osmosis systems with Doulton Sterasyl cartridge.

Over the counter water filters C series
Attractive and stylish finish compliments any decor. Great for home, apartment, summer/winter homes, RV, boat or office.

Under the sink or inline installed water filter models I series
Convenient, practical and compact inline models that installs in minutes with ordinary household tools. All under the sink Doulton drinking water systems are complete and ready to install including high quality lead free solid brass tap with choice of finish, push-fit connection fittings. All inline filters can be easily plumbed to your ice maker and/or refrigerator. (Ice maker and/or refrigerator "quick-fit-tee" is optional).
"The Little Gourmet" instant hot water system which includes choice of 540/640 hot water dispenser or 550/650 hot&cold dispenser, heating tank, Doulton Ultracarb ceramic filter and all accessory for complete installation. All Mountain Plumbing P.V.D. finishes (Physical Vapor Deposition) are protected with a lifetime warranty against corrosion, tarnishing or discoloring.
Instant cold under the counter water chillers - quiet, compact and economical hides neatly under sink cabinet it uses only 60 watt electricity. By installing our Imperial water filter you'll do away with all those bottled water delivery. Cooling capacity per hour: UCC water chiller - 0.8 gallon, UCC II model - 3 gallons.
Aquacera® Whole house water filters W series
Maintenance free automatic filters with solid state backwash demand metered or backwash timed metered control microprocessor
Sprite Shower filters. Installs in seconds and provides naturally healthy, chlorine free water for showering. Removes greater than 90% of free chlorine and its harmful bi-products and enhances pH balance for enjoyable and refreshing shower.
Preferred choice for chemical and bacteria free water. Typical use: Soda water post mixers, ice cube makers, coffee and tee brewing machines, steamers, table water, food and sauces preparations etc. etc.
High Quality Stainless Steel Filters Fitted With Genuine Doulton® Cleanable Ceramic Cartridges For Economical Absolute Micro-filtration - A Practical Alternative to Costly Throw-Away membranes!
Doulton Portable Gravity Fed Systems
Low output gravity systems - up to 20 gallons (80 liters) per day for home use, outdoor travelers, medical teams, missionaries, expeditions, disasters situations etc. Range from GSS-mini to GSS4-IMP - 40 GPD four Imperial candle system producing safe delicious drinking water..

Aquacrock series stoneware gravity filters chillers
Fitted with 3 Doulton Supersterasyl candles these filters provides up to 1 gallon/4 litres an hour of safe, clean and cold water. Energy efficient, versatile and convenient alternative to bottled water, reverse osmosis, ultraviolet or rented bottled water coolers. (DISCONTINUED, but we do carry set of 3 replacement ceramic candles)
Doulton ceramic filter replacement candles for pressure filtration systems: All Doulton® filters, Franke® filter, Uniflow® and Triflow®. Candles are 2x10in. with 3/4in. (19mm) threaded mount, Gary Null®, CWR, Watkins Nu Millennium®, Mountain Fresh, Mountain Pure MT660 and MT662 ®. Grades: Supercarb (W9122021), Ultracarb (W9123053).
Specialty elements for Doulton filters models IP, IS, CP200+ and IP300 models:
Fluoride reduction (CN-A2), Carbon block for chloramines (CN-CP1), Limescale reduction cartridge (CN-LS), 5 micron sediment pre filter (CN-PFPOLY).
Other grades are available upon request

Doulton ceramic filter replacement candles for gravity or drip filtrations systems: British Berkefeld®, Katadyn® and compatible with wide range of other filters manufacturers including our sport bottle replacement filter.
Grades:
Sterasyl
2"x7" used in HCA2, GSS2, GSS4 and Mini gravity filters;
2"x10" for Katadyn® Ceradyn® filter (requires 3) and GCC model.
SuperSterasyl
2"x7" used in HCA2, GSS2, GSS4 and mini gravity filters;
2"x10" for Katadyn® Gravidyn® filter (requires 3) and GCC model;
2.75"x7" Imperial used in HCA2, GSS2,4 and GCC model.


Doulton ceramic replacement cartridges for none Doulton, North America industry standard filter housings. Ceramic cartridge elements are Open-Both-Ends (OBE). Doulton's 2x9.75 inch ceramic cartridges are designed to fit industry standard 10 inch housing. In addition they are ideal prevention for reverse osmosis (RO) membrane bio-fouling, UV post-filter, RO and DI water final polish and other critical water quality requirements. Convert your ordinary carbon filter to Doulton filter.
Grades:
Sterasyl is ceramic micro-filter for cysts and bacteria removal. Absolute filtration 0.9 µam (0.5 µm ANSI standard) with >99.9999% efficiency using single pass method (none BETA ratio). Cleanable up to 60 times.
Supercarb is same as Sterasyl + carbon block core for chlorine and VOC reduction.
Ultracarb is same as Sterasyl and Supercarb + lead reduction
demonstrate the removal capabilities of Doulton ceramic drinking water systems:
Complete selection of high quality lead free solid brass faucets for under counter filters, bar sinks, food preparation etc. Color finishes available: chromed plated, brushed nickel (stainless look), euro-white, black.
Point of use drinking water systems. Classical Beauty and Timeless Elegance. The lever style handle combined with precision engineered ceramic cartridge makes one-touch and effortless flow control.
Standard and inexpensive faucets in Chrome and Brushed Nickel finish. Gooseneck or standard long reach style spout.

With it's exclusive all 100% natural multi stage purification technology, even heavily polluted water can be restored to safe and wholesome drinking water without the use of harsh or distasteful chemicals. The simple design of Doulton assures a long lasting and easy to maintain system that can far outlast and outperform any other filtration system on the market. Safe water can be attained anywhere at any time for all of your outdoor leisure. During short or extensive travel, in developed world or third world countries.
Tips on how to maintain a healthy motor home fresh water system. (Super chlorination/de chlorination and disinfections of your fresh water system).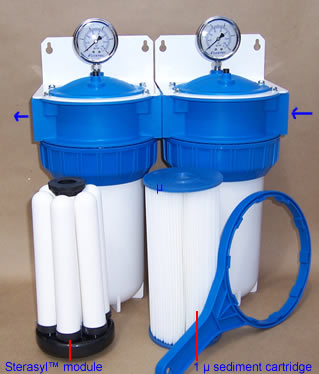 NEW! Doultonís unique 6 ceramic elements module water filter RIO 2000.
How Doulton Systems Work: 100% totally natural purification principle.

Doulton.. more than 180 Years Old and Still Going Strong: The company background.

Better Than Bottled Water Right From Your Faucet: Taste, convenience and savings; all at a small fraction of the cost of bottled water.

Compare and Save: Consider Doulton ceramic purifier as an investment.

Emergency Treatment of Drinking Water at Point-of-Use (POU). UN WHO (World Health Organization) Technical Note for Emergencies No. 5

Doulton Water Purification Systems User's Guide: We do our best to help you to make the right choice with your water purification problems however, you can't go wrong with any of Genuine Doulton filters.
Doulton Ceramic Water Filter Candle/Cartridge Technologies, taking the mysteries out of the drinking water filtration.
WASHINGTON, DC, June 11, 2003 (ENS) - Many Americans take the safety of their tap water for granted, but that faith could be misguided. In a report released today, the Natural Resources Defense Council (NRDC) says that aging infrastructure, source water pollution and outdated treatment technology are combining to increase the potential health risks from public drinking water for many residents in 19 of the nation's largest cities.