These taps give you the best of both worlds; Doulton quality instant boiling, cold or chilled filtered water from a single tap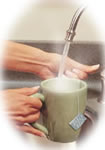 The perfect drinking water appliance (s) - These systems are perfect for prestige offices and homes. Now you can experience the benefits of instant boiling and cold filtered water at the touch of a button from a single tap whenever you choose.
A healthier solution - Dispenses Doulton quality fresh filtered cold water that contains far fewer micro-organisms than water from bottled water systems.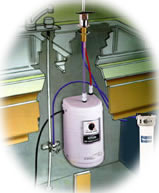 Contemporary/Traditional Design - Fits elegantly into your kitchen. All you see is the tap, everything else is hidden beneath the sink using very little space.
So Convenient - This systems are so much more convenient than kettles since there's no more time wasted waiting around for water to boil to make your tea or coffee. The hot water tank also feature a fingertip adjustable thermostat, no tools required.
Quality Built to Last - The instant hot water tank deliver up to 60 cups per hour of steaming hot filtered water. More importantly, they're built to keep on working cup after cup, year after year. The tank is made of genuine stainless steel, and the patented displacement system increases service life by helping to prevent mineral buildup.
The "Little Gourmet"® heating tank has a large 5/8 gallon stainless steel tank. Its self-resetting circuitry protects water tank in case of dry start. The easy access thermostat allows for finger tip adjustment from 140°-190°. UL listed and CSA Approved.

Since few plumbing fixtures add this much convenience to a kitchen, why not choose the one that adds the most value.