Doulton drinking water systems assure you of clean, safe, fresh tasting drinking water. An economical alternative to bottled water, reverse osmosis and distilled water.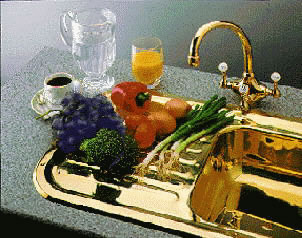 Taste. Everything you prepare using pure water will look and taste outstandingly better. Doulton water improves the flavour of tea and coffee, juices, soups and cooking in general. Even ice cubes are more appealing.

Convenience. No worries about the source of bottled water. No heavy bottles to lift and store. No more time-consuming home deliveries. Fresh and delicious water at the touch of your fingers.

Economical. Consider the Doulton water purifier as an investment. For only a few cents a gallon, you receive an endless supply of safe, fresh, better tasting water for drinking and cooking, at a fraction of what you pay for bottled water.

Environmental. 100% totally natural purification principle. No electricity required (operates on your mains water pressure), no water waste, no energy consumption, no flat, stale taste as encountered with reverse osmosis or distilled water.