Doulton's absolute ceramic micro-filtration technology have proven track record of providing a reliable filtration down to 0.9 µm absolute (or 0.5 µm ANSI standard) with 100% efficiency single-pass challenge in accordance to ASTM F795-8 specifications protocol (none Beta-ratio multi-pass "protocol").
The ceramic micro filter element has been tested under rigorous test protocols by various independent laboratories including to NSF Standard 53 as an absolute barrier to Cryptosporidium and Giardia in potable water applications. Test results with live Cryptosporidium shows that Sterasyl filtration capabilities exceeds by far those of EPA/CDC 1µm absolute guide 3 log reduction.
THE CERAMIC CARTRIDGE FEATURES:
Cleanable (back-wash capable) with simple plastic brush and reusable up to 60 times without compromising the filtration efficiency. Unlike poly cartridges it eliminates the need for regeneration with harsh cleaning chemicals, sanitizing agents, biocides, disinfectants and cleaning solutions
0.07% pure silver (Ag) incorporated throughout the ceramic shell prevents bacteria grow-through nor build up on its surface (bacteriostatic). No need for hot water or steam sterilization.
Less expensive than any absolute "membranes" cartridges regardless what they cost to buy
Biologically inert materials, no fiber leaching, strong construction withstands everyday hydraulic fluctuation in bottling applications
>98% efficiency at 0.2 µm
>90% efficiency at 0.05 µm
Turbidity reduction <0.07 NTU
Applications:
Bottled water
Beer and wine clarification
UV, RO and DI prefilter and or final polish filter
Make-up water in beverage processes, etc.
Whole house water filtration. More efficient and economical than whole house UV.
1 µm nominal pre-filter highly recommended. This will reduce the cleaning frequency. Model HSS-1 readily available, all other models allow 3-4 weeks manufacturing time.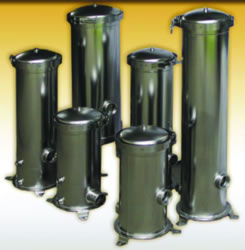 BC4 and BC6 series (band clamp lid closure) high quality 316L polished stainless steel construction filter housing fitted with Doulton Sterasyl** cartridges in four or six stackable cartridge configuration with up to 18 cartridges with flow rate of 5/20-23/90 GPM/LPM are readily available. Higher or custom flow rate can be attained by mix and match models in parallel order.
Options: Chemical resistant coatings, BSTP or Victaulic inlet/outlet.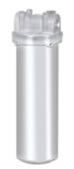 Larger systems can be build to ASME code accepting up to 208 cartridges in various grades of steel and options.
HSS1 single element filters are ideal for larger pilot plant studies, either on site, or within a laboratory environment. Scale up from this modules is linear, therefore negating extensive installation of larger plant for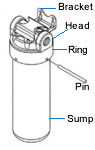 verification of performance and applications.
3 piece filter manufactured of all 304L none polish stainless steel construction includes mounting bracket and open/close ring pin, 3/4 in. ports.
Doulton and Sterasyl are registered trade marks of FICL, UK and DoultonUSA is an authorized user.