Genuine DoultonŽ Ceramic Candles for Pressure Water Filters (Threaded Mount)
Non - Chemical, 100% Totally Natural, True Absolute Sub Micron Purification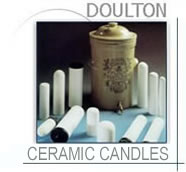 All Doulton ceramic candles and cartridges are bacteriostatic - that is, self sterilizing for bacteriologically safe cleaning and handling.

The Sterasyl shell provides: 100% rejection of cysts and >99.99% of pathogenic bacteria: Depth filtration of particulates >0.2 micron (dirt, asbestos, iron etc). Test Results>>
In addition, a variety of dedicated fittings are placed inside the bore of the element to remove chlorine, bad taste and odor, pesticides, herbicides, industrial solvents and heavy metals.
Ceramic and proprietary candles designed for Doulton® N. America filter models: HCP, HIP, HIS, HCS, HSS, ICP (Nimrod), P3, NP5, NT20 and Steramatic system. Other regions Doulton models: HBS, HBA, MKI and MKII. Sorry, we do not stock Minerva candles. Contact Doulton UK for regional availability.
Ceramic candles for OEM filters: Atriflow®, Uniflow®, Franke®, Katadyn®, Gary Null®, Watkins Nu Millennium® with 1/4" BPS thread, Mountain Fresh®, Mountain Pure® MT660 and MT662, CWR, Pure Flow,Aqua 3000 LED Ceramic Water Filter, Rena Ware CMF and other OEM pressure filters.

Depending on the filter element, candles are available with either a long 1.5/8 in./41 mm (L) or short 3/4in./19mm (S) threaded mount. Most gravity applications use a long mount, while pressure applications use a short (S) mount.
Slimline Ceramic Candles for Doulton Pressure Systems
Ultracarb candle
CN-UC 2"x10" (S) threaded mount filter with extruded carbon core and ATS media for heavy metals reduction inside Sterasyl shell (a.k.a. CU1200, DUC-1000). Fits HIP (W9330957), HIP/DIY, HCP, HIS, HCS, IP100-300UC, CP100-300UC. 600 gallons capacity.
$55.00 for 1

$52.50/ea for 2

$48.00/ea for 4


CN-UC+A2 Set of two candles: Ultracarb and Fluoride reduction
Ultracarb with scale inhibitor part N° W9123019
CN-SI 2"x10" (S) Ultracarb with added stage of scale inhibitor for hardness removal. 600 gallons capacity.
$59.00

Sterasyl part N° W9120562 (box N° 4100013)
CN-S 2"x10" (S) threaded mount filter for bacteria and cyst free drinking water. Also fit Katadyn pressure and drip filters.
BioTect Ultra filter cartridge
CN-BU 2"x10" (S) threaded mount filter for Doulton Filtadapt counter top drinking water filter system.
Chlorasyl candle
CN-CHL Doulton ceramic candle for for Chloramines
$50.36
Model MT661-RFC
CN-MT661-RFC Replacement cartridge for Mountain Pure® water filters model #MT660 and MT662. Cartridge should be replaced once a year.
$68.60
Doulton Ultracarb M15 compatible with Franke™ filter housings

CN-M15 Doulton Ultracarb ceramic candles with 15mm metric M15 threaded mount for Franke™ filter housings.
10 inch long x 2 inch diameter candle on 15mm short threaded mount, double O-Ring thread.

Delivery time: 2-3 business days.
Franke™ is a registered trademark of Franke Technology and Trademark Ltd

$64.00 for 1

$59/ea for 2

$54.00/ea for 4



Imperial size Ceramic Candles for Doulton Pressure Systems

CN-NIMROD Imperial Ceramic Ultracarb for Nimrod, ICP, CPI100UC filter replacement. Part N° W9123085 (box N° 4100506)
$79.00


Other grades of candles by special order are: Carbosyl-carbonized ceramic shell.
Supercarb-Ultracarb Contaminant Reduction Performance Claims
Specialty elements for Doulton filters models CP200+, IP200 and 300 series.
Fluoride reduction.
CN-A2 Fluoride reduction.

$50.14

Carbon block for enhanced chemical and metal removal.
CN-CP1 2"x10" (S) Carbon block for Chloramines, Chlorine, VOC and THM reduction.

$39.00

Limescale candle.
CN-LS Limescale candle. Protect against the damaging effects of hard water by using the Doulton® CleanSoft™ limescale reduction cartridge. This will reduce temporary hardness in drinking water, reduce limescale build up in kettles and prevent an unpleasant film forming on the surface of tea.

$42.00

Sediment filter part N° W924002
CN-PFPOLY 2"x10" 5 micron candle mount washable/reusable pleated polyester filter

$21.50

Enhanced Chemical/Metal Reduction, Chloramines
CN-AM 2"x10" (S) Enhanced Chemical/Metal Reduction, Chloramines*

$49.00

*non Doulton
-->
Ceramic candles for gravity filters Extruded solid carbon block cartridges ALL PRODUCTS LIST Return Policy Terms
---