Instant Hot Filtered Water Systems - Most Finishes Ship In 7-14 Business Days


LG1100 Nostalgic memories of the opulent Victorian and Edwardian eras are recaptured with LG1100/1200 models
Water Dispenser Specs>>


LG1400 A contemporary and elegant style

ACC CHS Dispenser Finish Chip Set: $50.00 deposit.
Mountain Plumbing Finish set will present to you exactly how the finish of the dispenser will appear. Provided it is returned by using our prepaid return label, within 10 business days, a refund of $40.00 will be credited to your credit card account ($ 10.00 non- refundable for 2-way priority postage cost for US destinations).


Mountain Plumbing Faucets Finish Guide (PDF)

Little Gourmet dispensers finishes matching others all purpose faucets manufacturers:

English Bronze = Perrin & Rowe® and Brasstech®
Pearl Nickel* = Delta® (Delta Select/Brizo®)
Matte Black* = Delta® (Brizo), KWC®, Franke®, Moen® and others
Stainless Steel = Blanco®, Danze®, Delta® incl. Brizo line, Grohe®, Hamat®, Hansgrohe®, Moen®, Newport Brass®, Price Pfister and others
Tuscan Brass = Rohl®
Venetian Bronze = Delta Select® (Brizo)
Weathered Brass = Herbeau®
All other finishes match or near match most all faucets manufacturers.

* Introducing soon
**All Mountain Plumbing P.V.D. finishes (Physical Vapor Deposition) are protected with a lifetime warranty against corrosion, tarnishing or discoloring. IAMPO listed.
Spare replacement water filters
For piping hot, great tasting drinks and soups. Ceramic filtered instant boiling water system beat hot drink vending machines, kettles and urns hands down.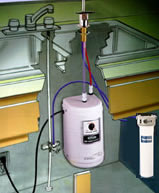 Better Tasting Drinks - Unlike vending machines that dispense drinks at temperatures significantly less than boiling point, this

provides truly boiling water at the touch of a tap so your beverages are always piping hot. This means that drinks made with instant boiling filtered water taste so much better than drinks from a vending machine. And you won't have to put up with the limited choice of drinks that vending machines provide, or the ongoing expense of costly consumables.
So Convenient - This set is so much more convenient than kettles since there's no more time wasted waiting around for water to boil to make your tea or coffee. Hides neatly under your kitchen sink using very little space.
Quality Built to Last - This instant hot water dispensers deliver up to 60 cups per hour of steaming filtered hot water. More importantly, they're built to keep on working cup after cup, year after year. The tank is made of genuine stainless steel, and the patented displacement system increases service life by helping to prevent mineral buildup. The hot water tank also feature a fingertip adjustable thermostat, no tools required. Since few accessories add this much convenience to a kitchen, why not choose the one that adds the most value.
The "Little Gourmet"® heating tank has a large 5/8 gallon stainless steel tank. Its self-resetting circuitry protects tank in case of dry start. The easy access thermostat allows for finger tip adjustment from 140°-190°. UL listed and CSA Approved. For heating tank detailed specifications>>