Genuine Doulton® Ceramic Filter Candles for Portable Gravity Filters
All Doulton ceramic candles are bacteriostatic - that is, self sterilizing for bacteriologically safe cleaning and handling.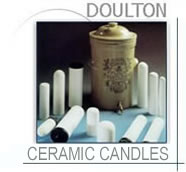 Choice of Sterasyl or Supersterasyl candles. Sterasyl candle is designed for microbiological protection whilst Supersterasyl is a Sterasyl shell packed with with selective activated carbon for chlorine, bad taste and odor, pesticides, herbicides and industrial solvents reduction. Due to the carbon exhaustion change Supersterasyl candles every six months.
When not in use air dry the ceramic candle(s) for minimum of 24 hours then store in dry place.
These candles provides: 100% rejection of cysts and >99.99% of pathogenic bacteria such as cholera, typhus, amoebic dysentery, ecoli, colibacillose or bilharzia, anthrax spores among others. Depth filtration of particulates >0.2 µm (dirt, asbestos, iron etc). Test Results>>
Designed for British Berkefeld™, housings. They will also fit Katadyn™ TRK Ceradyn™, NewtonWater™, Gravidyn™, Artesa™, Epic La Natural, Berkey (Big, Imperial, Crown, Light, Blue, etc.), CWR Travel water filter and other gravity filter housings. Wing nut and gasket are included with every replacement element
The 2" OD candle are referred to as "Doulton standard". The 2 3/4" OD are referred to as Doulton Imperials.
Typical daily output per candle:
| | | |
| --- | --- | --- |
| 2x7 in. | 2x10 in. | 2.75x7 in. Imperial |
| 6.5/25 gal/L | 8.5/32gal/L | 10.5/40 gal/L |
CN-S 2"x10" (S) for Katadyn™ Ceradyn™ drip filter (requires 3) and GCC, Doulton Classic model

CN-SS 2"x7" (L) used in LP2, GSS2, GSS4 , GCC gravity filters, CWR, AquaRain, Berkey travel filters.

CN-SS 2X7(L)

2-PK SPECIAL ONLINE ONLY

CN-SS-ATC7 2"x7" (L) Supersterasyl ATC ceramic candles w/lead reduction
media used in LP2, GSS2, GSS4 , GCC gravity filters also CWR, Berkey, AquaRain travel filters.

CN-SS-ATC7

2-PK SPECIAL ONLINE ONLY

NEW ! CN-SSI-ATC-FL(L)Imperial British Berkefeld Ultra Fluoride 2.75"x7" (L) ceramic candle for gravity filters. Provides superior reduction of: Fluoride, Bacteria, Cysts, Particles, Chlorine, Organics and Lead.
CN-SSI-ATC-FL(L)

2-PK SPECIAL ONLINE ONLY

CN-SSI5 2.75" X 5" Imperial SuperSterasyl candle. Fits GSS-Mini
CN-SS 2"x10" (L) for Katadyn™ Gravidyn™ filter (requires 3) and GCC model.

CN-SSI 2.75"x7" (L) Imperial Supersterasyl used in GSS2-4, GCC and CeraGrav model LP5 for higher output.

2.75"x7" (L) Imperial ceramic filter replacement used in Artesa, as well OEM gravity filters sold in catalogs such as GAIAM, Real Goods, The Wooden Spoon, Lehman's Hardware, Solutions, Seventh Avenue, Good Catalog, The Sharper Image, National Geographic and more.