Doulton ceramic filter replacement candles for the following brands gravity water filters: British Berkefeld®, NewtonWater™, Katadyn®*, AquaRain®*, Epic, Berkey (Big, Imperial, Crown, Light, Blue, etc.), CWR travel filter, AquaCrock chiller/filter, Artesa, La Natural drip filter and other gravity or drip filtration systems.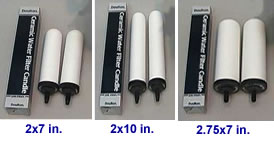 NEW ! 2.75"x7"(L) CN-SSI-ATC-FL(L) Imperial British Berkefeld Ultra Fluoride ceramic candle. Provides superior reduction of: Fluoride, Bacteria, Cysts, Particles, Chlorine, Organics and Lead.
CN-SSI 2.75"x7" Imperial Supersterasyl ceramic filter replacement used in Artesa, as well OEM gravity filters sold in catalogs such as GAIAM, Real Goods, The Wooden Spoon, Lehman's Hardware, Solutions, Seventh Avenue, Good Catalog, The Sharper Image, National Geographic and more.
CN-SSI5 2.75" X 5" Doulton Imperial Supersterasyl Used in GSS-Mini personal emergency gravity (drip) water filters.

Doulton ceramic replacement cartridges for: All non Doulton, industry standard water filter housings using open both ends (DOE) cartridges, reverse osmosis (RO) bacterial fouling prevention cartridges, ultraviolet pre or post filtration, industrial/commercial/pharmaceutical applications, none Doulton carbon block cartridges.
CTI-UC Imperial Ultracarb (high flow rate) 2 3/4x9 3/4 in. cartridge, 1000 gals./4000 L capacity. 1 gals./min. flow rate. Four stage replacement cartridge for Regent systems.

2"x9 3/4"ceramic micro filter used as a RO bio-guard and or final polish and UV pre or post-filter;

CT-UC 2"x9 3/4" four stage Ultracarb ceramic cartridge (CWR BCUC Basic Crown Under counter Water Filter replacement);

CT-C 2"x9 3/4" Carbosyl ceramic cartridge impregnated with carbon resin;

Non-Doulton specialty filters made in USA:

CT-PB1 - 2.5"x9.75" 1 µm nominal carbon block cartridge for chlorine, VOC, lead and cyst reduction;
CT-CP2510-CHL - 2.5"x9.75" 1 µm nominal cartridge for Chloramine and Chlorine reduction. 1000 gallons capacity.
CPpB1 4.25"x20" 0.5 µm nominal carbon block cartridge for chlorine, VOC and lead reduction (fits Big Blue housing);
CP1-2520-CHL - 2.5"x20" 1 µm carbon block cartridge 2000 gallons capacity. Chloramine, chlorine, taste & odor, sediment reduction;

SMF100-5 2.5"x9.75" 5 µm pleated washable/reusable polyester sediment/pre filter cartridge for standard 10" housing;

SMF100J-5 4.5"x9.75" 5 µm pleated washable/reusable polyester sediment/pre filter cartridge;