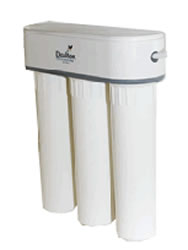 Euro Soft Look Neoclassical Faucet Included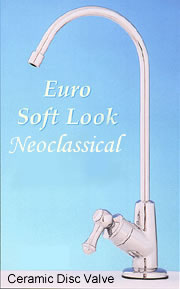 Quarter turn ceramic disc valve
Spout swings 360 degrees
Solid lead-free brass body
Lifetime drip-free warranty
Installs on 1/2 in. or standard sink hole on either side of the main faucet
Model IP300PSCA-5 $349.00 USD
Five stage system designed for dirt, chemicals, microbiological and arsenic reduction. Includes 5 Micron pre filter, Doulton Supercarb ceramic and Arsenic removal elements.

Exclusive ceramic/carbon-block technology reduces >99.99% of particles 1/2 micron (absolute ANSI standard) and larger in size including pathogenic bacteria.

Reduces asbestos fibers, dirt, chlorine taste and odor, arsenic and removes 100% Cryptosporidium and Giardia.

Taste the difference. Everything you make with Doulton water will taste outstandingly better.

Conveniently hides under the sink. Complete heavy duty hardware kit for quick and custom installation including elegant DW "Euro Soft Look Neoclassical Faucet" with choice of finish. Can be plumbed to your ice maker and or refrigerator.

Cartridges replacement is as easy as changing a light bulb.

An economical alternative to bottled water, reverse osmosis, distillation and ultra-violet technologies.
Lifetime warranty to our registered customers (Excluding the ceramic candle)
Capacity: 1000 gallons (4000L)
Flow Rate: 1/2 GPM (2 L @ 45/3 psi/bars) for cold water use only
Dimensions: W: 16 in. H: 11 in. D: 4.5 in.
Connections: 3/8 push-fit fittings
Certifications: WRC in EU, ISO 9002 int'l.
More Arsenic removal filters