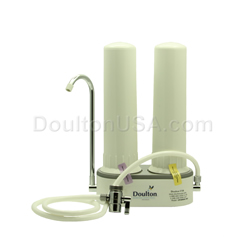 CHOOSE Pre-Treatment Cartridge:
-Fluoride reduction (CN-A2)

- Limescale reduction cartridge (CN-LS)

Doulton products consumers brochure in PDF>>
$237.99 USD Model CP200UCplus
Five stage water filtration system designed for chemical, microbiological and specific (fluoride, chlorine or limescale ) contaminants removal.
System contains one ceramic Ultracarb filter (CN-UC) plus one you can customize.
Reduces up to 99% of particulate lead, iron and hydrogen sulfides. Exclusive ceramic/carbon-block technology reduces >99.99% of particles 1/2 micron (absolute ANSI standard) and larger in size including pathogenic bacteria.
Reduces asbestos fibers, dirt, chlorine taste and odor, mold, spores, algae and removes 100% Cryptosporidium and Giardia.
Filter installation instructions.
Taste the difference. Everything you make with Doulton water will taste outstandingly better. Versatile and economical, it will attach to your faucet in just seconds! Attractive and stylish finish complements any decor. Ideal for home, travel, apartment, RV's, office or where plumbing alterations are prohibited or difficult to arrange.
Cartridge replacement is as easy as changing a light bulb.
An economical alternative to bottled water, reverse osmosis, distillation and ultra-violet technologies.
Related Items