Doulton Gravity Fed Portable Water Filters for Military Use
British soldiers have relied on Doulton water filters for safe drinking water since 1827. Due to their effectiveness at eliminating water-born diseases such as cholera and typhoid, they are being specified for field operations by many of the worlds major aid and emergency relief organizations.
Unsafe sources of drinking water are a threat to the health and operational readiness of military forces in emergency situations. Doulton products offers various solutions for all types of assignments with over a century experience in field use.
These water purification units are designed to convert raw water into high quality drinking water that will comply with the most stringent potable water standards all 100% naturally. They exceed all MIL-specs and are approved to British defense standard AQAP4 Reg. No. 1232580.


For special quote call us at: 1 888.664.3336 in US and Canada or +1 248.258.5500 other regions or fax your request at: +1 248.258.6977.
Portable gravity drinking water systems for use on any water except brackish and sea water for chemical and microbiological filtration.
For microbiological filtration SuperSterasyl ceramic candle can be cleaned repeatedly in the field and over a period of time it will filter more water for less money than with a non renewable filter.

GS-Mini personal gravity water filtration system.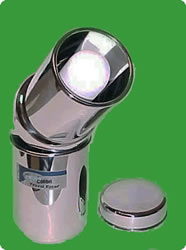 (housing is out of stock)
Manufactured from high-grade stainless steel. Lightweight and portable (about 3.5 in. wide 7 in. high when collapsed) and provides up to 24 oz./hr. of safe drinking water.
The GSS-Mini treats clear and turbid water from lakes, rivers, ponds and mud holes, converting it into clear and safe drinking water. Fitted with 5 in. SuperSterasyl ceramic candle for microbiological, chemicals and heavy metals filtration. This is ideal for special units operating individually. Technical specifications
CN-SSI5 2.75"x5" (L) Imperial SuperSterasyl ceramic candle for GSS-MINI $45.00

GSS Imperial - British Berkefeld gravity filter for chemical and microbiological filtration
Made from surgical grade stainless steel for maximum corrosion resistance. Telescopes for easy transport, it is lightweight, durable and easy to clean. Supplied for complete use, including; two 7 in. Imperial Supersterasyl self-sterilizing ceramic candles, tap and rubber base. Produce up to 20 gals./ 80 liters per day. Ideal for small field unit. Technical specifications

0.2 microns silver impregnated ceramic shell of SuperSterasyl™ candle(Sterasyl™) effectively remove pathogenic bacteria such as E.coli, cholera, salmonella, shigella, typhoid etc with greater than 99.99% efficiency, 100% removal of pathogenic cysts such as cryptosporidium parvum, giardia lamblia, guinea worm etc.
Inside the ceramic shell is packed bed of coconut shell granular activated carbon ( GAC) for removal of chlorine, VOC's, industrial solvents, bad taste and odor etc. For microbiologically effectiveness the ceramic shell is self-sterilized (no need for boiling) and can be cleaned up to 60 times before is worn off. For more information on Doulton's world class ceramic filtration technology visit >>
Filtration efficiency:
| | |
| --- | --- |
| Absolute filtration rating >99.9999% | 0.9 microns absolute |
| Effective filtration rating >99.9% | 0.5 - 0.8 microns |
| >99.7% | 0.3 - 0.5 microns |
| >98% | 0.2 - 0.3 microns |
| E.coli bacteria | >99.99% |
| Fecal bacteria | >99.99% |
| Salmonella typhi | >99.999% |
| Vibrio cholerae | >99.99% |
| Klebsiella Terrigena | >99.999% |
| Shigella disinteriae | >99.999% |
| Serratia marcescenes | >99.99% |
| Cryptosporidium cysts | 100% |
| Giardia cysts | 100% |
NOTE: It should be clearly understood that during tests performances the concentration of bacteria fed to the filtration element is artificially high in order to simulate a challenging test for the ceramic element. The most aggressive "real life" condition would normally be at least 1000 times less severe.
Those portable gravity fed water filtration systems are intended for use in situations where a reliable supply of safe drinking water is unavailable. Ideal for emergency situations such as hurricanes, floods, earthquakes etc. travelers, campers, field expeditions, rural clinics as well every day home use.
Existing customers:

UNICEF
Medicines Sans Frontiers
US and Foreign Embassies
British Embassies
Crown Agents
IDA Foundation
Save the Children Fund


League of Red Cross
Green Crescent
Governments Agencies, military, industrial concerns and above all by millions of satisfied individuals in over 150 countries around the world.
ISO 9002 accreditation for quality certificate No. 90082

Approved to UK Defense Standard AQAP4 Reg. No. 1232580
User's Guide Residential Drinking Water Systems British Berkefeld Portable Gravity Units Boats/RV's Fresh Water Systems Whole House Water Filtration/Conditioning Systems Commercial Kitchens Equipment Industrial Grade Water Purification Systems Filter Replacement Ceramic Candles and Cartridges Faucets for Water Filter Site Plan ALL PRODUCTS LIST