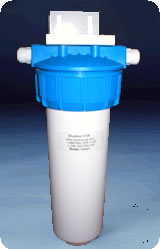 Regent I under-sink filter with Doulton four stage Imperial Ultracarb filtration ceramic cartridge. Individually priced $279.00
For more details>>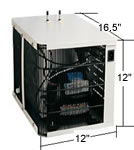 Inline under-sink chiller model UCC II. Individually priced $599.00
For more details>>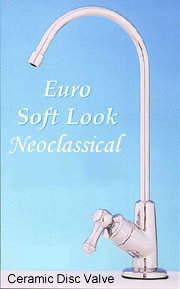 Euro Soft Look Neoclassical ceramic disk valve faucet with choice of faucet finish. Individually priced $100.00
Including all necessary hardware for a complete and professional DIY installation.
Imperial UltraCarb cartridge capacity is 1000/4000 gallons/litres or about 200 five gallons delivered bottled water.
Ideal for 4-50 person home/office/workplace use.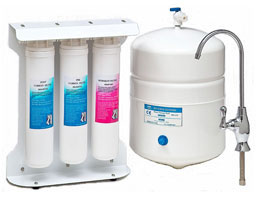 Reg. 299.00 Special $259.00
5-Stage purification system provides safe, pure and great tasting water using RO technology. It's capable of removing 90%+ of total dissolved solids (TDS), 90%+ of all organics and inorganics.
Filter cartridges has 90 degree removal/installation range of motion, no tools are required.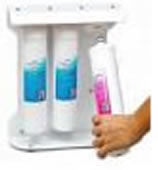 1st Stage Cartridge: 5-Micron sediment disposable cartridge, replace every 12 months; removes dirt, suspended particles and rust.
2nd Stage Cartridge: granular activated carbon cartridge (GAC). Disposable, replace every 12 months; takes out 99% of the chlorine.
3rd Stage Cartridge: Carbon block cartridge. Disposable, replace every 12 months; takes out any remaining chlorine.
4th Stage: TFC RO membrane (mounted on back of the system), replace every 3-5 years; eliminates up to 99.9% dissolved solids.
5th Stage: Inline GAC cartridge (mounted on back of the system), replace every 12 months; provides final polishing of water.
Comes with color-coded tubing, installation kit (which includes tank ball valve, feed water valve, drain saddle, inserts and screws, installation manual, 3.2 gal. storage tank and ceramic disk valve designer faucet.
It eliminates ~98% of dissolved solids and contaminants from water including nitrate, arsenic, mercury, lead, chrome, radio nuclides, organic and many other chemicals.
All components meet the National Sanitation Foundation (NSF) standards. Made in USA. HERO-50 comes with one (1) year limited warranty on all parts.
Dimensions: 10" W X 6" D X 13" H
Weight: 26 LBS
Operational parameters:
System is to be used with municipal or well water sources. Do not use with water that is microbiologically unsafe or of unknown quality (if not used with Doulton ceramic as a pre-filter).
Operating Temperature: Maximum 100oF (37.8 oC) Minimum 40oF (4.4 oC)
Operating Water Pressure: Maximum 100 psi (6.85 kg/cm2) Minimum 40 psi (2.8 kg/cm2)
Turbidity: < 5 NTU
pH 3 to 11
Hardness of more than 8 grains per gallon (137 ppm) may reduce TFM membrane life expectancy.
Recommended total dissolved solids (TDS) not to exceed 1800 ppm.