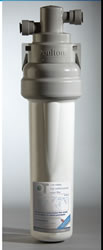 QT100 Quarter- turn/Quick-change Under sink or Inline Water Filter $199.00
Easy and fast Quick Change water filtration system featuring Doulton's new auto shut-off and quarter turn action design. The world renown, 4-stage, Doulton Ultracarb NSF is fitted within this new and innovative filter housing, insuring that your water is safe from suspended solids, chemical, microbiological, heavy-metal, particulate and lead. Consumers brochure (PDF)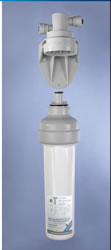 An ideal system for those looking to upgrade their current HIP-UC or IP100 filtering system, as well as new consumers consciously seeking an easy to operate water filter system, whether it be for under sink or inline (fridge/ice maker or cooler) applications.
QT100 System Advantages:
Extreme filtration against unwanted impurities (leaves beneficial minerals)
Quick connect/disconnect
Easy to operate
Sanitary changeover of filter elements
Auto-shut-off
Cleanable ceramic filter element; Ultracarb (though should still be replaced every 600 gallons)
Eco Friendly: Limited waste (80% less than other similar type systems)
Ceramic comprised of natural earth minerals
3 years limited warranty on parts (excluding candle)
No electricity needed to operate
Under sink QT system comes complete with QT filter, choice of luxury or standard faucet, and Installation kit.

No sales tax outside Michigan.
Doulton QT 100 Enhanced Kit with Luxury Faucet $249:

Add DOULTON QT100 DELUXE to Cart, select deluxe faucet in cart
QT100 Water filtration system with Enhanced Kit and Luxury faucet
Quarter turn ceramic disc valve
Spout swings 360 degrees
Solid lead-free brass body
3 years drip-free warranty
QT 100 Basic Kit with Standard Faucet $199:

Add DOULTON QT100 to Cart, select standard faucet in cart
Doulton QT100 water filter with basic installation kit and standard faucet
Spring loaded plastic lever
1 year drip-free warranty