| | | | |
| --- | --- | --- | --- |
| | | World class ceramic water filters | |
CERAMIC FILTER CLEANING INSTRUCTIONS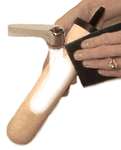 The flow rate of the ceramic filter can be easily renewed by simply brushing its outer surface with a stiff toothbrush, plastic brush or soft scouring pad under running water. As the top layer of ceramic and the contaminants are brushed off and flushed away, a new layer becomes available. With the Sterasyl candle/cartridge this process can be repeated over 50 times and or when the diameter of the slimline element reaches 1.75/44 in./mm. Supersterasyl, Ultracarb and Supercarb candles/cartridges should be changed every 6-9 months as their carbon media will get exhausted sooner than the ceramic.
If filter has not been used for period of two days or longer the first 2 qts./litres should be wasted and let fresh water supply into the filter.
Carefully remove candle from the unit and handle it as any fragile ceramic.
Using a soft toothbrush or soft scouring pad (3M Scotch-BiteŽ or similar), scrub the filter under running water or in a bowl of water. Always brush away from threaded mount, taking care not to contaminate the mount. Never use soap, detergents nor steel wool.
Be sure that sealing washer/s is properly seated before reinstalling it.
If you accidentally drop the candle and did not brake to ensure the integrity do the following test.
First the filter needs to be air dried for at least 24 hours.
Submerge it into water container while holding a finger over the outlet to keep the air inside.
If there is a crack the trapped air would exit through it and you would see bubbles indicating replacement.
Problem: "Hi DoultonUSA,
In my new home came installed a MT660 (IP100UC) Mountain Pure filter (under-sink filters as above) and I am trying to install a new ceramic candle MT661 RFC (Ultracarb candle). I cannot seem to unscrew the head from the sump (should be other way around), as I feel I am about to break the unit. Any ideas? Tips or tricks?"
Answer: 1. Turn off the water to the filter.
2. Open (turn on) the filter faucet, this will relive the back pressure. Leave it open until faucet stop dripping.
3. Unscrew the sump as unscrewing a light bulb (CCW).
Once you change the ceramic candle wipe dry the sump "O" ring and apply a bit of cooking oil on it before screw in the sump.
Suggestions: Wear rubber gloves when cleaning. Cover the threaded mount with plastic and a rubber band or the candle O ring. Back to Doulton technology page>
Back to Doulton Water Purifiers Home Page | Select only genuine Doulton candles and cartridges