Filters you can trust - Ceramic filter elements manufactured in the UK under ISO conditions to meet NSF requirements.

High flow - Filter offers a superior flow rate of up to 520 gallons (2000 litres) per hour at 45 PSI (3 bars)

0.9 microns absolute filtration rating as defined >99.99% efficiency.

Most efficient system for cysts removal compare to any available alternative technologies such as chlorine, ozone, UV, RO etc..

Tested with live Cryptosporidium by University of Arizona in USA and Water Research Council (WRc) in Europe.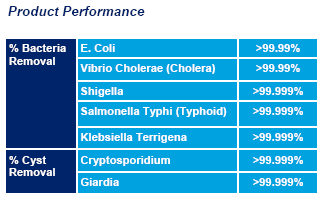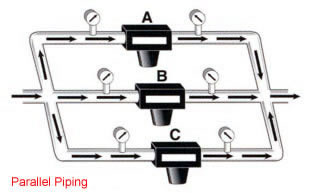 RIO 2000 system. Our filter housing is designed for complete 100% positive seal ensuring no by-passing of untreated water. Unlike most BB housing which are designed for nominal filtration (none critical application) which may or may not filter out 100% of the incoming water.
---
CN-RIO One spare 1.2"x8" ceramic candle for RIO 2000, highly recommended in case of damage during cleaning intervals $28.50
---
RIO-REPL RIO 2000 Replacement 6 Pack Set: $101.00
---
1 micron sediment pre filter above is highly recommended. For highly turbid or NY City supplied waters use our depth cartridge in the pre-filter housing>>
---
Rio 2000 multi candle filter module typical applications:
Whole house filtration where finest quality drinking water is desired
Homes drawing water from lakes, streams or microbiologically contaminated wells
Local and national parks, highway rest stops, etc. ensuring EPA cyst removal compliance for public drinking water
Small footprint for parallel installation for large volume safe drinking water
Bottled water pre or final filtration
RO post filtration ensuring cysts and bacteria removal
Beer and wine clarification or where high turbidity reduction is required
Emergency preparedness etc.
RIO 2000 Ceramic Water Filter Operating and Exchange Instructions