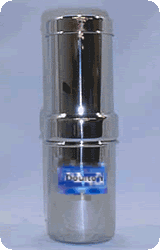 (DISCONTINUED) GSS-Mini-A Personal Emergency Gravity (drip) Water Filter
Protect yourself even in emergency situations: hurricanes, floods, home emergencies, natural disasters when you have microbiologically unsafe waters. Doultonusa brings the latest technology to provide safe drinking water for you and your family.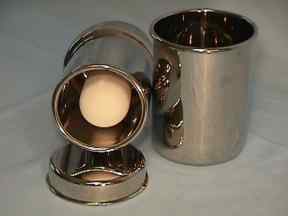 Now you can travel anywhere in the world and feel confident about the water you're drinking. This new travel size pour through filter contains the world class Doulton ceramic filter to purify any treatable fresh water source. It's so compact, only 10 inches in height, light weight and durable made of surgical grade 316L stainless steel.
The Doulton Ceramic Micro filtration is used worldwide to provide safe drinking water against waterborne disease. The ultra fine ceramic candle used in the GSS-Mini Travel Filter will remove 100% of parasitic cysts such as Cryptosporidium, Giardia etc. >99.99% pathogenic bacteria such as E.coli, typhoid, salmonella etc. Bad taste, odor, sediment, dirt, chlorine, organic chemicals such as pesticides, herbicides and industrial solvents are also significantly reduced.
TECHNICAL SPECIFICATIONS

MODEL
GSS-Mini-A
Filter Element
2.75"x5" Imperial SuperSterasyl ATC
Output /hour
24 oz./.750 liter
Top/Bottom Capacity
24 oz/ 24 oz
Transport Size
7.5" x 3.25"
Height (in)
10
Diameter (in)
3.25
Empty weight
1.1 lb.
Bacteria, cysts, chlorine and VOC's removal
YES
Heavy metals (lead) removal
YES
The GSS-Mini Travel Filters Features:
Pour water from any fresh, treatable water source into top container and in an hour you'll have 18 ounces of safe, clean, great tasting water.
Great for homes, hotels, RV's, boats, camping and natural disasters
Lightweight, compact (telescopes for easy transport - only 3.25" x 7.5")
The ceramic filter is cleanable, to extend the life of the filter
The filter is bacteriostatic - inhibits the growth of bacteria
Carbon capacity inside Sterasyl ceramic shell for chlorine reduction is 535 gals/ 2000 L
Ceramic shell capacity for pathogenic cysts and bacteria removal is up to 60 cleanings or about 13,000 gallons
GSS-Mini installation instructions>>
The GSS-Mini, Travel Filters Technical Features: