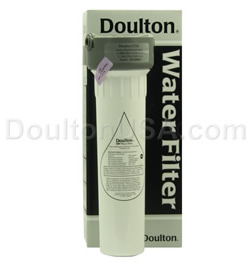 Four stage water filtration system designed for chemical, microbiological and heavy metals (lead) reduction, bacteriostatic.
This Ultracarb water filter also removes unpleasant taste and odour, particulate, turbidity. Does not remove minerals from the water, which are beneficial to health.
Ceramic candle capacity: 600 gallons (2400 L)
Flow Rate: 1/2 GPM (2 L @ 45/3 psi/bars) for cold water use only
Canister dimensions: W: 5 in. H: 11 in. D: 4.5 in.
Connections: 3/8 push-fit fittings
3 years limited warranty on parts (excluding candle)
Certifications: NSF 42 and NSF 53 in US, WRC in EU, ISO 9002 int'l.
No sales tax outside Michigan.
Enhanced Kit with Luxury Faucet:

IP100UC Doulton water filter with enhanced kit and luxury faucet
- Chrome (no extra charge)

- Brushe Nickel (stainless look) $+10.00

- Oil Rubbed Bronze +$10.00

Quarter turn ceramic disc valve
Spout swings 360 degrees
Solid lead-free brass body
3 years drip-free warranty
Complimentary filter shut-off valve included
Basic Kit with Standard Faucet:


HIP/DIY Doulton water filter with basic installation kit and standard faucet
Standard chrome faucet:

Brushed nickel (stainless look) standard faucet +$9.95:

Spring loaded plastic lever
1 year drip-free warranty