High performance, no salt scale removal and prevention nano ceramic technology. A superior alternative to conventional (salt based) softeners for large boats and motor homes.
NoScale® media have been successfully in use throughout Europe since the year of 2001 in homes,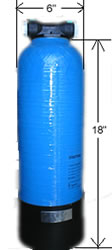 commercial and industrial applications.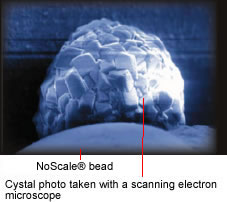 Atomic sized catalytic sites on the surface of the small NoScale® beads converts dissolved hardness (calcium and magnesium) into microscopic crystals. Once the crystals grow to certain size they are released from the bead and are rinced away with the water flow. For more information on NoScale® FAQ >>
Features:
Highly efficient, only 2 seconds contact time with water regardless of the hardness level. Conventional ion exchange resin requires 90 seconds contact time.
No salt, chemical or electricity required.
No backwash waste. Can be used in areas where water softener are banned. Protects the environment and septic fields.
Long lasting media-not consumed by the reactions.
Removes existing scale from pipes, water heaters etc.
Cleaner, softer clothes with less soap usage and no slimy, slippery feeling when showering with NoScale® treated water.
Treat water with up 25 grains per gallon of hardness, 6 GPM flow rate.