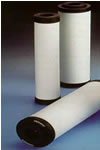 Doulton's ceramic filtration technology have proven track record of providing a reliable supply of safe drinking water to homes, schools, hospitals, ships and offshore rigs, industries, small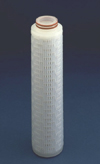 municipality, national parks, emergency relief organizations etc.
Ideal for RO, UV and DI systems pre and or post filtration or as a final polish providing true absolute micro-filtration. Chemically inert materials can be stored for eternity; no bacteria grow-through, no fiber leaching, physically strong.
The ceramic cartridge membrane offers both; absolute dead-end filtration and depth filtration. Far more economical absolute micro-filtration than any thin film poly-carbonate, polyester or teflon® dead-end membrane or throw-away depth filtration membrane made of PVC, PVDF, PTFE, cellulose, nylon, polyethersulfone, polypropylene. For more details on how Doulton's ceramic micro-filtration works>>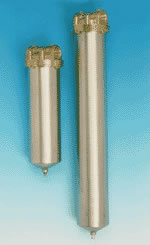 Filter's housing unique looking ring design eliminates bolt, cap nut and cap nut gasket. Ideal for tight space requirements. Cone shaped shell to fully drain sump. Brass head and 304L stainless steel sump on 10 and 30 inch housings is standard, 316L SS head and sump available.
These modules are ideal for larger pilot plant studies, either on site, or within a laboratory environment. Scale up from this modules is linear, therefore negating extensive installation of larger plant for verification of performance. Physically strong, the ceramic cartridge will not collapse nor unload the trapped contaminants even at high pressure drops.
Sterasyl® micron ratings, particle retention and the performance of the filter medium are based upon a single-pass, constant flow rate method as compared to the various multiple pass (Beta-ratio) tests performed by other manufacturers. The Sterasyl micron rating is a measure of it's efficiency to entrap particulate before it becomes loaded with contaminant as follows: 0.2-0.5 µm >98%, 0.5-0.8 µm >99.9% and 0.9 (0.5 absolute ANSI standard) 100% efficiency.