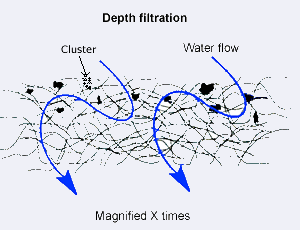 Depth Filtration
Particle laden water are penetrating the porous filter medium. Depth filtration uses several mechanisms to separate the particles, e.g. sieving, impaction and interception. Particles are captured in the "depth" of the filter.
Particles larger than 0.5 µm are generally removed by the sieving mechanism (see dead-end picture). Bellow 0.5 µm particles are removed by impaction and interception.
Impaction occurs when a particle attempting to pass around an obstacle in its path, diverts by momentum from the flow stream and hits an other obstacle.
Particles intercepted within the ceramic depth are much smaller than the pores measured by porometry. This is because particle laden water has to navigate through intricate maze of labyrinths. It turns, twists, dead ends and asperities* within the ceramic wall.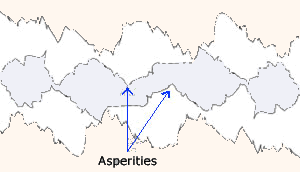 The result is particles intercepted from the stream are about one-third smaller than 0.5 µm pore size. The depth efficiency of the Sterasyl ceramic element is greater 98% at 0.2 µm.
* All materials regardless how smooth and shiny may appear have "rough, thorns-like" surface called "asperities".