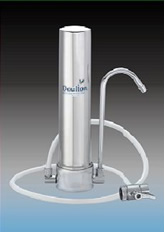 Model CS100SC Three stage stainless steel ceramic water filter is designed for chemical and microbiological protection.
Doulton counter-top stainless steel water filter w/Supercarb ceramic element $279.95

SALE $249.95
Doulton ceramic filters, a trusted name in water purification by presidents, kings, queens and millions of discerning homeowners in over 150 countries around the world.

Reduces up to 99% of particulate lead, iron and hydrogen sulfides. Exclusive silver/ceramic/carbon-block water purification technology reduces >99.99% of particles 1/2 micron (absolute ANSI standard) and larger in size including pathogenic bacteria.

Reduces asbestos fibers, dirt, chlorine taste and odor, mold, anthrax and other spores, algae and removes 100% Cryptosporidium and Giardia cysts.

Taste the difference. Everything you make with Doulton water will taste outstandingly better.

This unit is compact, elegant, powerful, and attaches to your faucet in seconds. Attractive and stylish finish complements any decor. Ideal for home, travel, apartment, RV's, cottage or where plumbing alterations are prohibited or difficult to arrange.

Cartridge replacement is as easy as changing a light bulb.

An economical alternative to bottled water, reverse osmosis, distillation and ultra-violet technologies.
Lifetime warranty on the housing, 3 years diverter and tubing (excluding the ceramic candle)
316 stainless steel construction
Capacity: 1000 gallons (4000L)
Flow Rate: 1/2 GPM (2 L @ 45/3 psi/bars) for cold water use only
Dimensions: W: 2 3/4 in. H: 11 1/2 in.
Connections: 3/8 push-fit fittings
Certifications: NSF 42 and 53 in US, WRC in EU, ISO 9002 international
Which system is right for you? User's guide>> or
our quick-and-easy product configuration>>