High Quality Stainless Steel Industrial Water Filters Fitted With Genuine Doulton® Cleanable Silver Impregnated Ceramic Cartridges For Economical Absolute Micro-filtration - A Practical Alternative to Costly Throw-Away membranes!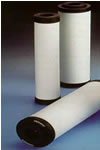 The ceramic cartridge membrane offers both; absolute dead-end filtration and depth filtration. Far more economical absolute micro-filtration than any thin film poly-carbonate, polyester or teflon® dead-end membrane or throw-away depth filtration membrane made of PVC, PVDF, PTFE, cellulose, nylon, polyethersulfone, polypropylene. For more details on how Doulton's ceramic micro-filtration works>>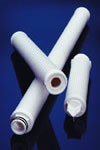 The ceramic cartridge is less expensive no matter what you pay for it than any absolute membrane because it can be cleaned and reused over 50 times. Unlike the man-made materials used in dead-end and depth filter membranes, Sterasyl® have pure silver through-out the ceramic shell preventing bacterial growth for safe handling and cleaning. Cartridge efficiency is >99.9999% at 0.9 µm absolute (0.5 µm absolute ANSI standard), >99.9% at 0.5 - 0.8 µm and >98% at 0.2 - 0.5 µm. Tested with live cysts and e.coli to 100% removal of cryptosporidium parvum and giardia lamblia cysts and >99.99% e.coli bacteria removal.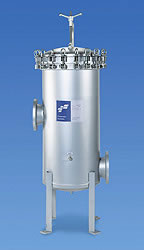 HSS36
Thirty Six Round Filters
Special order of thirty six round models for flow rates to 144/550 GPM/LPM all 316L construction; swing-bolt closures. Knife edge seal at both cartridge ends to eliminate by-pass. Standard pipe fittings are 6" flange, BSP, grooved and sanitary connections available. Electro-polishing or passivation can be provided by special order. Protective poly-coat over stainless steel is standard finish.
Flow rate varies with other cartridges. To see the ceramic cartridge operating conditions in pdf format >>
For detailed specifications and drawings>>
Pricing
Model

No, of 9-3/4" X 2" cartridges required

Pipe size

Flow rate GPM/LPM

Shipping* weight lb.

Price in USD

HSS-36X3

108

6" flange

108/410

340

Call for price and stock availability. Toll free in US 1.888.664.3336 all others +1.248.258.5500 Fax: +1.248.258.6977

HSS-36X4

144

6" flange

144/550

360

CT-S

Doulton silver impregnated ceramic cartridge

0.6

68.50

CT-S-25

Case of cartridges (25) $44.90 ea.

18

1120.50
*Housing shipped empty F.O.B. factory, USA. The ceramic cartridges are shipped separately F.O.B. Michigan, USA or UK, which ever is closer to destination. Shipping cost will be confirmed prior shipping.
Note: Information and recommendations contained in this bulletin are believed to be reliable. User is responsible to determine suitability.
Teflon is a registered trademark of E.I. du Pont de Nemours and Company, Inc
Residential Water Treatment Systems High Quality Stainless Steel Industrial Water Filters Commercial Kitchens Equipment British Berkefeld Portable Gravity Water Purifiers Boats/RV Fresh Water Systems Other Doulton Ceramic Filter Applications Faucets for Water Filters Filter Replacement Ceramic Candles and Cartridges
Terms and Conditions of Sale