General Purpose Filters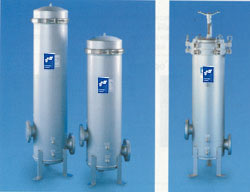 HSS-66
Twenty Two Round Models
We stock a complete line of twenty two round models for flow rates to 48/180 GPM/LPM all 316L construction; band clamp, swing-bolt closures available. Knife edge seal at both cartridge ends to eliminate by-pass. Standard pipe fittings are 4" flange, BSP, grooved and sanitary connections available. Electro-polishing or passivation can be provided by special order. Protective poly-coat over stainless steel is standard finish.
Flow rate varies with other cartridges.
Features

Designed for industrial and commercial filtration needs
Heavy-duty stainless steel construction for durability
Band clamp closures for quick cartridge change-out
Knife edge seal at both cartridge ends to eliminate by-pass
Standard housings accept double-open-end cartridges
Adapters for cartridges with 222, 226 and fin ends available
Electro-polishing available for increased resistance to corrosion
Adjustable top plate for more cartridge options

Adjustable top plate accepts variable length cartridges
Specifications & Pricing
Model

No, of 2.5"x30" required

Pipe size

Flow rate GPM

Shipping* weight lb.

Price in USD

HSS-66

22
10" elements can be stacked

4" flange

450*

140

$5390.00

Call for stock availability. Toll free in US 1.888.664.3336 all others +1.248.258.5500

CT-S

Doulton silver impregnated ceramic cartridge

0.6

68.50

CT-S-25

Case of cartridges (25) $44.90 ea.

18

1120.50
*Housing shipped empty F.O.B. factory, USA. The ceramic cartridges are shipped separately F.O.B. Michigan, USA or UK, which ever is closer to destination. Shipping cost will be confirmed prior shipping.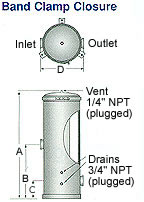 NOTE: For filters operating conditions follow the ceramic cartridge conditions and specifications>>
Clean cartridges at 35/2.5 psi/bars. Change cartridges when diameter reaches 1.75/45 inch/mm or approximately 50-60 clean out. Service log and 5 µm pre-filter highly recommended.
The single and triple element modules are ideal for larger pilot plant studies, either on site, or within a laboratory environment. Scale up from this modules is linear, therefore negating extensive installation of larger plant for verification of performance.
Note: Information and recommendations contained in this bulletin are believed to be reliable. User is responsible to determine suitability.
Teflon is a registered trademark of E.I. du Pont de Nemours and Company, Inc
Residential Water Treatment Systems High Quality Stainless Steel Industrial Water Filters Commercial Kitchens Equipment British Berkefeld Portable Gravity Water Purifiers Boats/RV Fresh Water Systems Other Doulton Ceramic Filter Applications Faucets for Water Filters Filter Replacement Ceramic Candles and Cartridges
Terms and Conditions of Sale