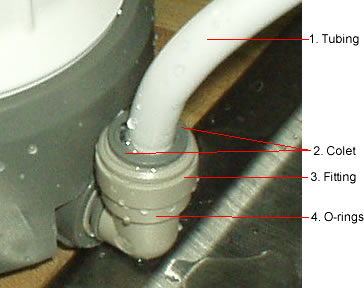 Troubleshooting CP model water filters inlet tube leak as follow:
Remove 2 Phillips screws from the bottom the water inlet tube filter (CP200+ models) and remove the filter base.
With two fingers press and hold down the gray colet (2) whilst pulling the inlet tube (1).
On 45° angle wedge a small straight slotted screwdriver or thin pointing object and pry the colet (2) out ensuring does not fall into the sink hole.
Once the colet is removed, remove the inside brass tube support (not shown) and look down the fitting (3) making sure that the 2 black O-rings (not shown) are placed in the middle (4) of the fitting. Should they are on the bottom of the fitting readjust them.
Press in the colet (2) into the fitting hole.
Cut squarely the end of the tube approximately 3/4 inch/20 mm and insert the inside brass support into the end of the tube until flush.
Insert tube into the fitting until stops or approx. 3/4 inch deep the pull back making sure it's locked.
Turn on the water to the filter before making sure proper seal before placing the base to the filter.